Morning Folks!!
We had 7 pets this time last year. Then in May we lost Pearl after 2 of them got very sicklast November. Last Night our oldest cat "Bully" who was near 10, died. He had cancer and was undergoing Chemo since last November. He had been doing well and then a setback.
Bully had 9 lives and more. He was perhaps the wildest cat ever. We have scratch marks 9FT up a door to prove it. That was his first night in from the wild when we got him shots and got him fixed. Bully was tough and a few months later got into a fight with a possum and lost. The possum bit right thru his front paw. While we had a relationship with him by feeding him for a year, he was a bad ass boy. Claws to match and he ruled the land in which we lived. So getting him to the vet was no easy chore.
The vet and his assistants had to wear rubber suits and masks and gloves to even get near him. He was as wild as they come. Hissing and pawing with those claws. They stitched him up and said he had to be indoors for like 2 weeks. That was impossible. But Alina and I did it.
Funny thing, within 24 hours this mean hissing 'Bully' of a cat became a PUSSYCAT! It was quite a transformation. He would purr and give head butts. But once he was healed we let him back into the wild. Not long after coming back with a huge gash on his neck and that was when we adopted him. Big cat with a higher back than front that gave him characteristics of a fox or something like that.
Last night his time ran out and Alina and I watched him take his last breath. There was nothing we could do as we watched him go down hill pretty quickly. Until then he had been comfortable. Then last evening you can see he was in distress. We decided to take him in and put him down so he would not suffer. As Alina put him in the cage he took his last breath and died. R.I.P. Bully. Alina had a very special bond with Bully as I did with George back in the day but after losing her second kitty this summer it does not get easier. She nursed him daily with meds and hand feeding him and did things nobody would do. On Wednesday drove 3 hours to a special Vet Hospital and spent all day waiting and trying one last effort to stabilize him. She did everything possible and then some. Bully had a great life with us and without our intervention would have been dead many years ago.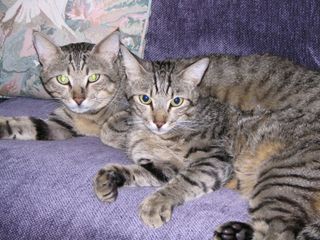 Bully on Left, Baby Bully on Right. Father and Son. Both Rescued. Baby was just minutes from being destroyed and even tho I was responsible for saving him, he hisses at me all the time to this very day. Good thing I am used to that. They have been inseparable since his birth.
We called Bully, Mr. Mom because the love and affection they had for each other was something indescribable. When we brought Baby Bully back from the rescue he stunk and was dirty. Bully licked every inch of him until he was clean. It took hours. The reunion before that was even more intense as father took son into his zone of safety and cuddled him. I wished I would have gotten a video of that.
The funniest thing he ever did was the first time he ever saw Freddy our Miniature Schnauzer. You could literally see the hair on his face fall and change color. Wish I had that video as well. We miss you and will always have a very special place in our hearts. You taught us a lot about life, love and a fighting spirit. Say hi to George and Pearlie for us.
Rick Schwartz
---
---