So.. the big surprise bonus for guests is that we have been collaborating with the .VEGAS team to have Oscar Goodman there and he will appear and sign copies of his fantastic book for our attendees.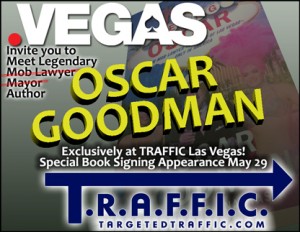 We had hoped this would be a surprise for next week, but the secret has gotten out, so I'll just go ahead and let the cat out of the bag...  The legendary Oscar Goodman will speak and do a special book signing of his hardcover book "Being Oscar: From Mob Lawyer to Mayor of Las Vegas" for attendees on day 1 of the conference.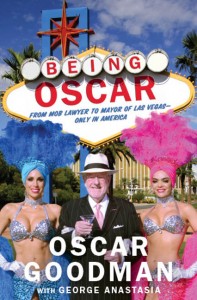 The .VEGAS folks were gracious enough to provide copies of the book for a special signing, and Oscar will share his charm with the audience for a brief speech.
Before any announcements get lost in the noise from this extended weekend and the focus of honoring our troops for Memorial Day, I wanted to make some announcements for next week's
TRAFFIC conference
.
As we lead into the unparalleled networking and business opportunity that TRAFFIC brings, you may have noticed some amazing
additions in content
.
Of course there is the TRAFFIC party, and we have excellent cuisine and location with the Bellagio, PLUS Howard Lefkowitz of Vegas.com fame keynoting which will be outstanding, and we have Neil from GETITFIDO who will bring you some new powerful MONEY MAKING TOOLS!. But wait, there is more...  I wanted to get another last-minute surprise out ...  because there is a lot more about to happen for next week. The schedule is never done until showtime.
I have been working hard with the team at TRAFFIC - we have been toiling and assembling a fantastic content lineup, from the Sherpas to new TLDs, and the excitement over industry trends.
I hope to see you there, and have a great weekend.
Rick Schwartz
---
---