Morning Folks!!
You get to a destination one step at a time. Your history of blogging comes one blog post at a time. It's the accumulation of both that adds up to something or brings you to a planned or unplanned destination.
Below are my original thoughts before I ever made my first blog post. If nothing else, I think you can agree, I have been true to my word. Like I wrote the words right now! That gives me great pleasure. Time is my best ally and always has been.
I want to take a moment to thank all my sponsors for the last 11+ years. Oh, never mind. I have never had a sponsor. I don't answer to anyone. I believe what I believe just like I assume my readers do. I just choose to share because mine are strong, long, deep and proven. Let the chips fall where they may. My reaction, my opinion, my beliefs will be the same, friend or foe. I search for answers and there are no property lines when it comes to thought. I never have to bend an answer to satisfy someone in the industry. Numbers and facts are the only ones I answer to. I filter out the noise.
So here is to another year of sponsor-less posting and free thinking. Whatever pressure I get, whatever blowback I get, it all happens after the answer not before. After the post, not before. And my only answer to that," It is what it is."

1450 Posts, 22,500 comments. Averaging more than 15 comments per post. Going on 12 years. Adding to those posts of 1996-2007 where I shared much of what I was discovering in REAL TIME and even then most just dismissed it and worse. I tried.
And as I read this, I may have not satisfied everyone, some you can never satisfy, but I was true to my word and I sure as hell satisfied myself. I lived up to the standard I set and that has more value to me than anything. Thanks for being part of it!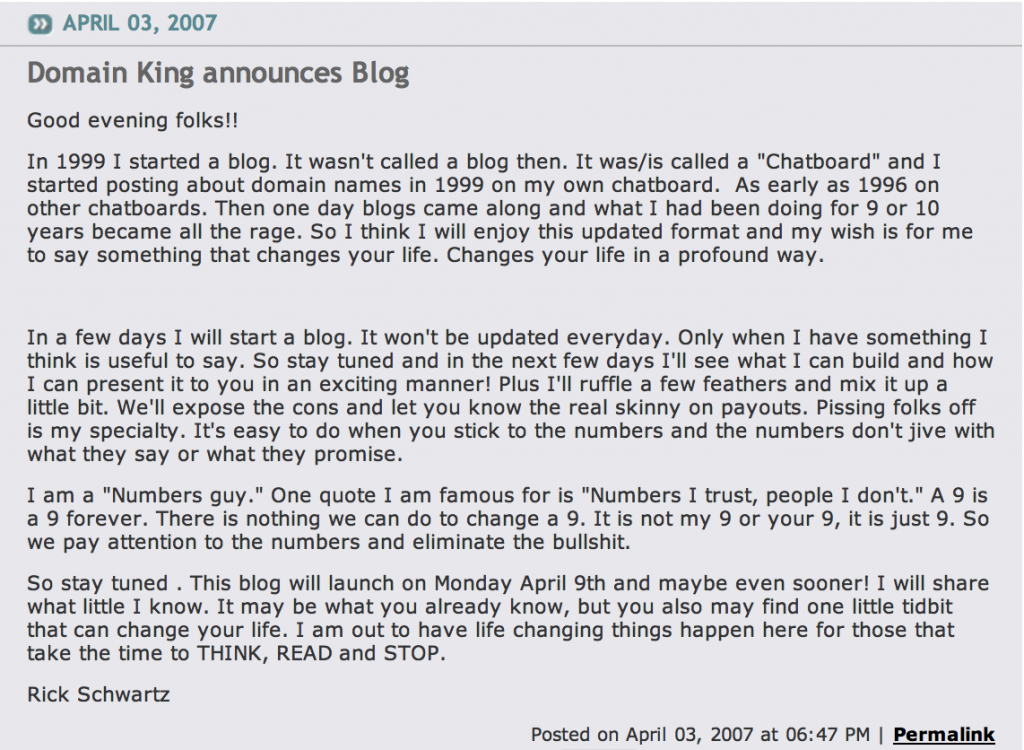 Rick Schwartz