Morning Folks!!
So when I found the 2004 picture of me in front of the Grove Park Inn yesterday I started to reflect on the similarities and differences between TRAFFIC 2004 and the Asheville Meetup. Let me share some thoughts with you.
For one thing, I had never produced a trade show before nor had I ever been on stage in front of people of which I was terrified. I never fed 135 people 3 or 4 meals each or put a menu together. I never did a host of things that now I have done 28 times. But I always rise to the occasion no matter what it is in life. I even surprise and impress myself sometimes.
TRAFFIC 2004-2007 were sensational events by all accounts. The success of TRAFFIC had a very specific recipe and to be honest, it was lost when the interests of domain investors took a back seat to the needs of sponsors and others. My original recipe was no more.
In 2014 it was time to get out of the way of the GTLD trainwreck. Sometimes it just makes sense to sit it out. Get out of harm's way and allow the dust to settle. Once the dust settles, and folks are clear-eyed once again, the original need want and desire remain and come back with a fury. Meanwhile, there is nobody in the industry on the record like I am when it comes to gTLDs.. Literally, HUNDREDS of posts articulating and exposing the pitfalls. They poisoned a thriving industry and NOW it's time to recover!
TRAFFIC 2004 was unique because it brought so many people together for the first time face to face. Before that, we had interacted on "Ricks Board" for 4 years since 2000. Relationships that were forged 15-20 years ago have endured the test of time. The trail never changed, I just had to sit and wait 5 years for a failure that should have been recognized in 5 minutes!
I have created intersections that have been life-changing. Bringing people together that have something in common and would have never met without bending destiny just a tiny little bit. That's the way I give back. It's the way I change people's life. Many that I have never met nor will I ever meet. But I have some street cred after 20 some years of consistency.
What's different now is the fact that besides knowing each other over a long period of time we are now armed with so much more knowledge and understanding. The universe itself has changed so much. They have gotten so much more sophisticated as well.
My recipe always included slowing things down. Take folks out of their everyday frenzy of activities, calls, and appointments and allow very smart and very creative people do what they do best. Be smart and creative with each other and at the same time receiving an energy transfusion that lasts a very long time. It reinforces our belief in ourselves and our assets.
When you come back and taste the original recipe and the show done for the original reason you will know in the first moments that it's like coming home to have your favorite dish and how mouth-watering delicious it is.
This time we are a self-funded, not for profit get together that is going to provide something special, fun and unique and still do 3 days of business and have a group of high power players without the noise. As a soloist, I don't need to make a profit or make a living from a show. My personal motives are different. I need to accelerate the future. Especially after a horrible 5 year detour.
This idea I had 15-20 years ago was shared for the first time on February 8th. I ran it by Berkens on the 7th. Told him about my dream and my idea. Host hotel contacted and had signed the contract on February 21st. The first business day was just last Monday the 25th. On Tuesday the 26th we exhausted the first block of rooms I contracted for and added more. Thanks for the confidence. It means alot.
So at this point, we have more actual domain investors paid and registered than came to either of the last 2 TRAFFIC shows. Mostly high-level investors. A number of them with great portfolios but have never been to any show. It's their TRAFFIC 2004 for sure. And that is in just 4 days for an event 5 months away. WOW!
As I posted early on if it were just Berkens, Messer and Schwartz it would have been a great time. But to be joined now with dozens of other truly professional domain investors and many more to come is going to be so much better.
When I tossed out a number to Berkens early on he asked how many domainers coming would be good and what you hope to expect. I said 18-36. But when I posted the idea and folks were excited about it, I signed the contract based on 60 attendees.
We will likely blow past 60 and am now planning for 130. Once we sell 130 tickets, I will close registration, and I will crunch some numbers. There are 60 tickets at $295, and there are 70 tickets at $395. I want everyone there for $295. But I am planning and financing this a long way in advance, and you still need to have a reason and sense of urgency to sign up.
https://www.eventbrite.com/e/1st-annual-asheville-professional-domain-investors-meetup-family-outing-registration-57272887749?aff=affiliate1
That brings me to the next thing. Once you register, getting your hotel room is very important. This is the first week of August and easily their single busiest week of the year. This little town and great digs are going to redefine "Vibrant" for you. But please make your reservations now! The hotel does not mind waiting and getting another $200/night more per room. They know from experience that they will be sold out.
Rooms are still $349 but I expect the next round of rooms to be raised to $399 which is still much less than the lowest rate of $479 I can find right now. As we get closer to the summer, I would expect rates to be between $599-$699 until they sell out. If you get an error message, it means the second block of rooms have been sold out. Please drop me a line if that happens.
https://www.omnihotels.com/hotels/asheville-grove-park/meetings/1st-annual-domain-investors-08012019
Also, airlines. The 2 major hubs other than some direct flights to Asheville are Atlanta and Charlotte. It is best to fly in early in the day if possible. Summer can get backed up in the afternoon plus pm thunderstorms and I don't want anyone to miss the incredible opening cocktail party that is going to mark the start of a new era in domain investing. Come in a day early but don't miss it!
As I announced on Twitter, the Ghost tour has been booked, and our guide is no slouch. We are going to have the one and only Christian MacLeod! He is a pro-paranormal investigator who has been in the NYTimes, on Coast to Coast AM national radio, ABC news affiliate, etc; and, he is the current Master of the Masonic Lodge.

Fabulous.com/Directnic.com have stepped up to sponsor the Friday lunch. Thanks, guys! Could not have picked a better Inaguaral sponsor! Going back to the future!
I do have a few openings for other things like tours or busses, a possible breakfast, but I think it is essential to be selective given what I have learned. While attendance is open, sponsorships are going to be restricted. And to answer your burning question, the answer is "No." No, this event will have no gTLD sponsors. They are welcome to attend, but sponsorships would be like me selling out at this stage and at this time.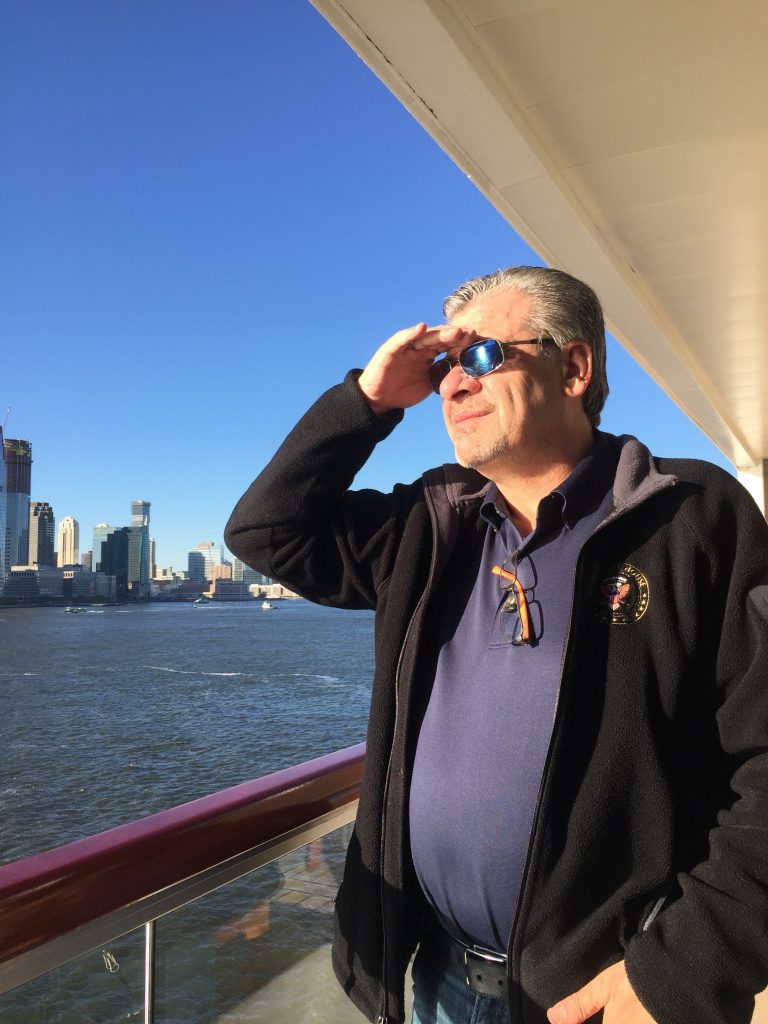 All I can say is this is a labor of love. I do what I do in the months before the event and then get out of the way once the show starts. It's your show. As I started before the show came to fruition, I don't even want to touch the money. I will finance and fund it, I will organize it, I will guarantee the contract, I will do all the grunt work. But I don't want to make a business of it. Using Eventbrite helps me do that. I elected not to get a check from them until after the event is over. That keeps the bookkeeping much simpler.
If anyone has any dietary restrictions, please let me know, and I will make arrangements. That said, come hungry because there is some delicious food coming your way.
When you take a detour and, you end up in the wrong place, in my world, you go back to the starting point and try a different path. In this case, a tried and true path that works. So we will take out the noise, take out the gTLD's, take out their sponsorships and get back to the BUSINESS of domain name investing!!!
Rick Schwartz