Good Afternoon Folks!!
First I want to say that as of this time Nelson Brady has neither confessed his guilt nor proclaimed his innocence. He has been accused by his previous employer of this massive scandal and we assume this is all based on fact. But as I write this, thatSTONEWALL (Tiger Woods Style) is still up and few are demanding them pull it down. How the industry treats this, reacts to it, and how this all unfolds will determine a lot about the future.
This will certainly raise some eyebrows. Ihad hoped to get this online just a few minutes after the post yesterday and could add to it. As it turned out, it was a much more time consuming process than anticipated. The audio file is over 100 megs and took a while just to upload so that Danny could download. This really has required hours of work way beyond my expertise. After I was on it for more than 3 hours I want to thankDanny Pryor for helping me out. He was up until 2AM working on this and has been on it since early morning today.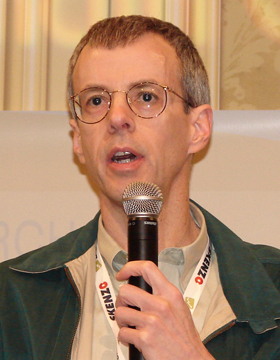 Nelson 'Halvarez' Brady.
Image lifted fromDNJournal.com
Publication of RECORD for the Domain Industry

I think it has a great value to listen to somebody during the period they are accused of doing something that has rocked our industry. Like I said, some of the words were chilling when you hear them now and since nobody is talking,maybe you will pick something up of interest. FirstHoward will introduce Snapname's Mason Cole who will introduce Nelson 'Halvarez' Brady.

Click here to listen to the FIRST audio file. (It is online now)

Click here to listen to the SECOND audio file. Here you will hear Mason Cole introduce Nelson Brady and then his only public words that we know of spoken by 'Halvarez.' EXPLOSIVE and CHILLING.'

Rick Schwartz

-----