Morning Folks!!
I had to leave Las Vegas TRAFFIC early as my mother was near
death. Death induced by doctors that DON'T CARE and a system that may or may
not work. When it works, and it usually does, it is as good as it gets, but
when it does not work, it is a nightmare.
So I send my mother and her girlfriend on 1 or 2 cruises each
year since 1997 when my dad died. They are the "Golden Girls" and this would have been #27. Each cruise they go on they get special
treatment because they have
cruised more than any other passengers on the entire ship and almost always go with the same line. That's good for at
least a nice bottle of Champagne. So they sit at the Captain's table and they
get other little perks and upgrades that they really enjoy. My mom is 86 and her girlfriend
is about 2 years behind.
Our nightmare began on January 10thwhen she
started the last cruise. She got sick on the ship before it even sailed. Went
up for the lunch buffet and that was the last thing she basically remembers. She
was so sick that the ship had to leave her in St. Kitts at a small hospital
with very little equipment. 2 days later She was too sick and too weak to fly
home. (Just yesterday I found out she was sick before she boarded) What to do when you are sitting 1000 miles away and no communications
whatsoever? Who is her advocate? After 24 hours I was able to convince the
insurance company that the insurance I purchased for her cruise now needed to
be activated. They did perform and they arranged an air ambulance on a Lear jet
at a cost of $17,000 plus other fees. But it worked and they did their job. We
were confident that once we got her here we would quickly get things sorted
out. They THOUGHT they had things done and they released her from the hospital
prematurely and unable to even get out of bed. Still in pain and discomfort and
not eating or drinking. My vibrant mother was withering away in DAYS! She even
began to lose her will to live. My brother calls 911 and they readmit her. They
just do nothing and release her. 48 hours more passes, now 12 days into this.
Not eating, not drinking, getting dehydrated, no intravenous to keep her
hydrated. She was dying but there was no reason for her to die. NONE! She had an acute attack but it was nothing chronic which to me meant it was totally fixable!
Ineptness was killing her. Not her age, not even her medical
problem. The doctor was just too busy to pay her any mind or attention. Too
busy to really take a moment to see what was happening. So I left Las Vegas early
when I heard she was giving up.
When I landed my brother called and said he again called 911. He also
left a voice mail for the doctor. Let him know what a jerk he has been. I was
on the way home to pay a personal visit to the doctor. I was going with my
brothers to his office to physically confront him. He has 2000 patients and we
have 1 mother. If it were her time to die it would be one thing. She would
outlast anyone reading this. Tough and strong and survived more than I care to
divulge. I am not sure what I would have done had that event happened. I was
prepared to be disruptive if I had to for him to either focus on my mother or not
be a roadblock to finding another doctor that would.
Well, my brother's angry voice mail to the doctor finally got
his attention and he got into gear and showed up at the emergency room and a
TEAM of doctors went to work on her. That was Saturday (Jan 23rd) and she is still
not stable. More tests this morning. Each day getting weaker and the discomfort
is evident. They finally believe they have it nailed down but her recovery is
far from certain. So many
complications can set in and her initial problem is still not resolved as I
write this. So been a pretty rough
few days and there is still no light at the end of the tunnel. Each day we hope
she turns the corner. That has yet to happen and at her age with no food for so
long, time is against her until she can eat and start to regain her strength.
We are hoping after the tests today she can try and eat and drink again.
Sunday the 24th and then again on Tuesday the 26thwere the toughest days. We were just praying the phone did not ring n the
middle of the night. Our mother was dying and the system was killing her not
her body not her malady. The system, the doctors that don't communicate and the
cracks that things fall thru were more than I can even write about. I started
writing this about 2 weeks ago and it still goes on.
I struggled for the entire time whether
to post any of this. It is very personal, yet I want everyone to know what you
are up against. You cannot trust the medical system to provide good care unless
you have an advocate and watch them like a hawk. With my mom close to death I
just broke down and did not know what to do. The system we all believe in was
failing her. I was trapped with no answers. Then I just cried out NO! NO! I was
not going to stand by and watch this. NO WAY! I solve problems for a living. I solve every other problem, I must solve this one because no problem ever meant more and if I were really good at what I do then this was the moment it all was for. Earlier in the day I tried to get her a
private nurse. 8PM and with all that was going on I noticed they never even
called back. So desperate I tried another route and luckily I got a call back 10 minutes later.
I told them I needed my own
'Nurse Ratched' to scare the doctors into doing their jobs. For those that don't know, she was the nurse in one
of the greatest movies ever on the screen. 'One flew over the Cuckoo's Nest' with Jack Nicholson. Pretty damn mean
and nasty nurse. But I need one of those to put every doctor she had on notice that
this was not going to be business as usual. Put them on notice that we are
watching and you are going to CARE! My mom is not just another piece of meat
and I don't give a rats ass that you have 2000 other patients, I have ONE
mother.
At 8am the next morning my mom's
private nurse arrived. I did not tell my brothers. I just did it and hoped
everyone was on board. They met her, they loved her and now my mom had somebody
actually tending to her needs. The hospital is just so understaffed that there
is no time for actually nursing anymore. It takes hours to get the simplest of
things and sometimes days. The doctors are so callused they just don't care. They see she is about to be 87
and would rather call a mortuary than a specialist. I write this because everyone needs to
know what they are up against. It is cruel out there and you must be loaded for
bear.
So the nurse was great. She
basically nursed my mom off of the death bed the fucking doctors were
sentencing her to. Without the 6 of us and the nurse, my mom would not be alive
today. We were not sure she would survive on Sunday night and then again
Tuesday night. Today (Thursday the 28th) she seems to be on the mend. It would
not have happened without this private nurse. She was dying until she arrived
on the scene.
No insurance will cover this. Not
really. There are some fake stuff out there. But when you have a NEED, it is
useless. The cost is high but life cannot be replaced. The system is failing
and I watched what they did to my dad in 1997 and I watched what they almost
did to my mom in 2010.
It was not easy to find a private
nurse that was qualified and licensed to do what we needed. We lucked out and
now just one week later instead of a funeral she is eating, walking and getting
stronger with every passing day. It has been a very tough few weeks and an ordeal I wish on none of you.
Had the doctors continued to be in control and doing what they were doing,
there is no possible way she would have survived given what we were witnessing.
Sense of urgency? Completely foreign to a broken system. Things that were
ordered to do on one day was not done until the next. We saw this over and over
again. The nurses on staff were great but all trapped in a bad system,
understaffed, over worked and full of roadblocks and uncaring doctors that
manage things poorly and fail to communicate. The hospital itself as a facility is one of the top 50 and a non profit. But a hospital is only as good as the doctors that use it and the management that controls it. This is difficult to post, but I think everyone reading and all my friends need to know what to expect when doctors lose their passion to save their own patients and a system that has no backup but YOU. I thank the domain business for giving me the resources to pay tens of thousands of dollars it took to save my mom!! Dollars the 'System' would not spend. The system would rather bury her. Friday she started to really turn the corner. By Sunday she was sharp, alert and eating pizza. She will be home this afternoon after 3 weeks of hell. Thanks to a great nurse and possibly a story thatJoseph McClendon III shared at TRAFFIC just a few hours before I left that made me refuse to accept what was happening and maybe bend destiny just a tad.
Rick Schwartz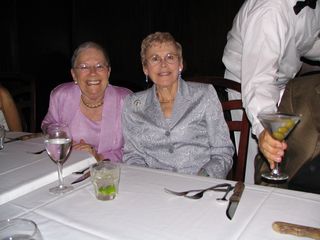 My mom on the RIGHT. Her traveling friend on the LEFT. Our families have been friends for 44 years.

---
---