Morning Folks!!
The test of time. Circa 1999-2001 on Oprano Chatboard and before. So what were the best pearls of wisdom winners posted back then? The same as every year since. See which ones below may apply right now. Pay particular attention to those highlighted in red.
Below is a picture of the T-Shirt I still have from back then. These beliefs I have were not born recently for or from convenience. This line has stood the test of time and it let's folks know that their bullshit will not find a friendly helping hand with me. It lets them know that they will get a swift kick in the ass if they try to pull one over because with numbers you can catch liars, and cheaters and all types of prey. You can destroy folks with numbers. You can destroy ideas. You can destroy theories. You can destroy anything not worthy.
I dissect, do a living autopsy and drill down with multiple variables. That takes time. Time most are unwilling or unable to do. Once armed with the real numbers, they can throw the kitchen sink at me and I won't flinch because my numbers are stronger and more powerful than bullshit.
On the other hand, if you know and understand and don't abuse the numbers, they are the roadmap and building blocks to nearly every answer to every question and therefore each and every success. Most abuse the numbers and if they do, I HANG THEM by their own numbers until I squeeze every ounce of bullshit out of them and then we can have a real discussion and find real answers or I ignore them and watch where they are in 6 months or a year.
Can't help it. Pisses me off when folks make up and/or lie about numbers. And when they do, I stuff it down their throats while everyone else swallows the delicious bait. So there is a reason I act and react this way and in TIME it will be evident to most.

"Numbers I trust. People I don't" Webfather (your's truly)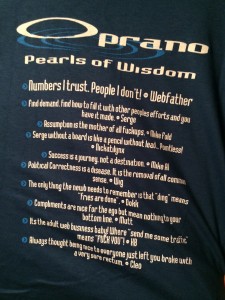 Here are the runner ups as it may be a bit difficult to read from my picture above:

"Find Demand. Find how to fill it with other people's efforts and you have it made." Serge
"Assumption is the mother of all F*ckups." Mike Fold
"Serge without a board is like a pencil without lead. What's the point?" Nickatilynx
"Success is a journey not a destination." Mike AI
"Political Correctness is a disease. It is the removal of all common sense." Wig

"The only thing the newb needs to remember is that the "Ding" means the fries are done."  Dokk
"Compliments are nice for the ego but does not help your bottom line." Mutt
"It's the adult web business baby where "Send me some traffic" means "F*CK YOU."" KB

"Always thought being nice to everyone just left you broke with a very sore rectum" Cleo

Any questions? 15 years later and still on the mark. Mules and Masters.

Rick Schwartz
---
---