Afternoon Folks!!
Want to ride in the nice man's Boat?? Some may get that THRILL when we race that baby right off the shore under the cabanas at the Ritz Carlton!! We add value when we no longer have to and we have so much more to come. When you miss T.R.A.F.F.I.C., you miss L.I.F.E. and B.U.S.I.N.E.S.S. and F.U.N.
Plus these names will be auctioned off:
Movies.xxx Reserve Under $400,000
Singles.xxx Reserve Under $80,000
Personals.xxx Reserve Under $50,000
Orgy.xxx Reserve Under $50,000
Stars.xxx Reserve under $100,000
Blondes.xxx Reserve under $50,000
Party.xxx Reserve under $60,000
Local.xxx (No Reserve)
Juicy.xxx Reserve under $15,000
Virtual.xxx Reserve under $15,000
Hotties.xxx Reserve under $15,000
Chatroom.xxx Reserve under $15,000
Come meet Mike Seebold and be the FIRST to see this boat in action.
FOR IMMEDIATE RELEASE
September 30, 2011
.XXX RACING TO MAKE ITS MAIDEN VOYAGE AT OFF SHORE WORLD CHAMPIONSHIPS IN KEY WEST, NOV. 11-13
Palm Beach Gardens, Florida: ICM Registry, the company behind the .xxx top level domain (TLD) announced today that it is entering world class powerboat racing with world champion driver Mike Seebold to compete at this year's Off Shore World Championships in Key West, Florida.
Seebold and the team will be unveiling the all new race boat at T.R.A.F.F.I.C., the domain investment conference in Ft Lauderdale on Oct. 15-16th, where guests and some surprised beach goers will get a chance to see the Miss .XXX powerboat blast along the coastline for a few test runs.
"We are extremely pleased to have a champion of Mike's caliber join the .XXX Racing team and we look forward to lots of success with the .XXX Powerboat Team both on and off the water", states ICM Registry Sales Director, Vaughn Liley.
"We are excited to be part of the .XXX team and were going to make them very proud in Key West as we go for the World Championship", stated champion powerboat racer, Mike Seebold.
.XXX puts internet users in control of the content they wish to view or avoid, the .XXX indicates to the consumer that the website is likely to contain adult material, so they can now make an informed decision, whether to select or avoid. For more information about .xxx please visit www.about.xxx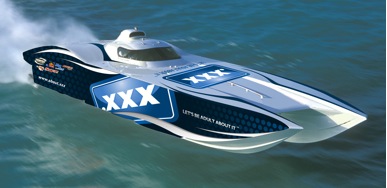 Contact:
Mike Schriefer
Speedway Group/.XXX Racing
(704) 904-4141
About .XXX Racing:
.XXX Racing has been set up in partnership with Speedway Group to activate and promote the .XXX brand at global sporting events. In addition to the powerboat racing .XXX plans to sponsor a variety of four wheel and two wheel events /teams as part of its global outreach to consumers.
About Miss .XXX Powerboat:
Hull: Skater Off-Shore Racing Catamaran
Engines: 2, Mercury Racing 650hp
Top Speed: 150mph
About Driver: Mike Seebold:
Hometown: St. Louis, MO
Resides: Marco Island, FL
Age: 49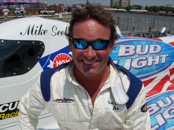 Career Highlights:


2nd all time powerboat race winner worldwide


Fifty (50) F1 race victories


Fifteen (15) Total National Championships


Three (3) F1 Championships


Oldest son of the famed Seebold Racing family


Former driver of the famed Bud Light F1, Bud Select and Bud Light Off-Shore race teams.





Contact:
Mike Schriefer
Speedway Group/.XXX Racing
(704) 904-4141
mike@speedwaygroup.com

-----