Hi Folks,
It's been a pretty distressing couple of months. The last weeks very hard.
My mom has been in her final days and hours as I write this. (And if I decide to post this, her battle will have been over) It's my outlet. Some of the  hardest days of life are upon me and I know the next days will be challenging. But in and after the grief  I will celebrate her life. I am thankful her suffering was not prolonged.
She was born years before the depression. Lived through that era and even helped my grandfather, "The Hosiery King of Fulton Street", stay in business after he went out of business and slowly built it back up using my mother as the go between since nobody would sell direct to him anymore. Everytime my mother would pick up the goods and each order larger and larger and at 12 she was the biggest buyer with nobody knowing it was actually my grandfather until he was back on top and all was forgiven.
My mom was amazing. In all of my life not one person ever had an ill word to say about her. I guess that stuff skips a generation is my only answer I have for me. But she won everyone over and did it instantly.
She was one of the millions of "Rosey the Riveters" during WW2.  She never applied for a job in her entire life that she did not get. She was a bookkeeper, sales person and also the Head Hostess at one of the largest restaurants in South Florida back in the 70's and 80's.
Just a few months ago I was able to make this blog post about my mom's 90th Birthday. A few weeks later she was the star of the show at my 60th birthday party. As late as August she was still driving. Scary, but still driving. Today she lost her battle. We have been lucky that she did not have a lot of suffering. She stopped eating weeks ago but would have cravings and we were quick to make sure she got what she craved. Her last big meal was her favorite. Lobster. She has been eating lobsters since I am a kid and would clean that caucus until it was barely a skeleton. Even on her death-bed with the aid of the caretaker she was able to put down one more 2lb'er.
She passed early this afternoon. Everyone said she was a "Battleship". A true survivor. Breast Cancer, Lung Cancer, Ovarian cancer, Lung Cancer again. Several strokes, heart problems and still loved every second of life.
She lived for Sunday breakfasts with our small clan of 7. A 20 year tradition. But the last 2 weeks she could not even make it out of bed to join us in her dining room. We knew then we were on borrowed time. Matter of fact, Sunday, the first Day of TRAFFIC, was the last time we actually had breakfast together. I am so glad I made that extra effort to make it that day.
So we have been preparing, however you are never prepared. I am just so fortunate and thankful that I had my dad in my life until I was 44 and my mom until 60. I know how many others don't have that great fortune and I have never ever taken it for granted. But going to bed tonight will be different from any other in my life.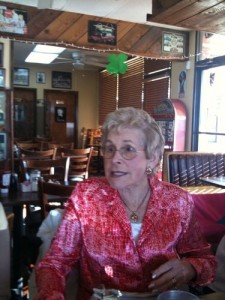 Mom 3 years ago and 3 weeks after skirting death.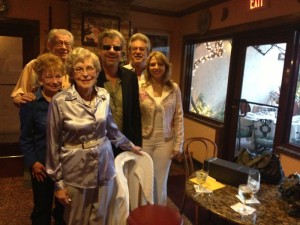 Mom this past April as we celebrate her 90th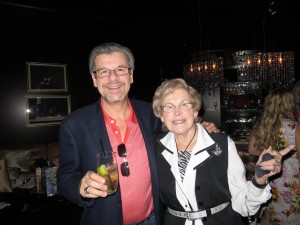 Mom and me in May at my 60th Birthday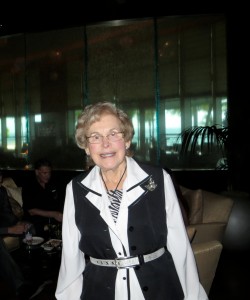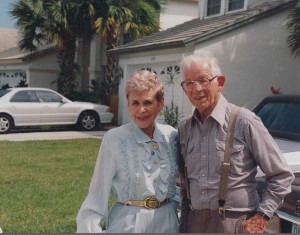 Mom and Dad Circa 1993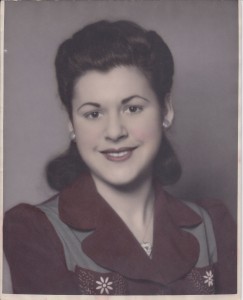 Mom at 21.
Love you and miss you! :-(
11/08/2013 Update. The service and Funeral was today at 10;30AM. Below is the Eulogy that was given:
It's hard to talk about our mother, Estelle, without talking about our father, Hy.  They were a pair.  A matched set.
Our father Hy died in 1997, but as long as our mother was with us, he was too.  Now that she is gone the loss is twice as hard to bear.
They both grew up in Brooklyn. Our father grew up on the streets.  Our mother Estelle grew up on a financial roller coaster with her two brothers, Elliott and Lionel.
Her father and mother, Benjamin and Molly Kosloff, started businesses, closed businesses, lived in grand apartments, ran from creditors, and made and lost minor fortunes.
She even helped our grandfather get back into business during the depression. Ben was known as  "The Hosiery King of Fulton Street", until he went broke. After he went out of business he slowly built it back up using our mother as the go between, since nobody would sell directly to him anymore.
Every time our mother would pick up the goods, each order was larger than the next. At 12 years old she was the biggest hosiery buyer in Brooklyn! Nobody knew it was actually for our grandfather until he was back on top, then all was forgiven and he was once again "The Hosiery King."
Ben was fearless.  He had escaped from Czarist Russia after being drafted into the Russian Army for a 40 year term, so business for him was a piece of cake.  He knew nothing about engines and barely knew how to drive, but he once opened an auto repair shop.  That particular venture ended badly.
In July 1943, after Hy enlisted in the Army, Estelle and Hy got married and headed to California.  While Hy was an electronics instructor in the army, Estelle worked in an aircraft factory helping to build B-17 and B-29 bombers.
Women like her were immortalized as "Rosie the Riveter."  Through the years she also worked mostly in diners, and restaurants (the Kosloff family business) and in the 1970's was Head Hostess at the Round Table in Hallandale. One of the Miami area's largest and most popular restaurants.
Estelle gave birth to, and raised, 3 sons during her marriage, Leslie, Michael and Richard. 3 tries at a girl and no dice.
Estelle was a one guy woman, and Hy was a one woman man. They were happily married for 54 years, up until the day of his death they lived a passionate and sometimes volatile love affair.
Estelle's defining characteristic, was her relationship with her husband, our father, Hy. They had a partnership based on trust, accomplishment, and a passion that didn't dim, even on Hy's dying day.
On the last day of his life, Estelle walked into his hospital room, and our father spoke his last words, "I love you!" Then he gave her a little grin.
After Hy died Estelle's life revolved around her three sons and her Granddaughter, Jackie.
She lived for our 20-years of Sunday breakfasts when the whole family would get together, and she was always ready for a dinner invitation or a party.  Joe's Stone Crab anyone?
There was no-one we know that didn't like Estelle. Ever! She was a classy lady, a devoted friend, and always had a kind word for everyone.  All of you that knew her know that she really cared about you.  It wasn't an act.
She had a strong sense of family and was devastated when her brothers, Elliot and Lionel, died.
The only time she was combative was when someone wronged someone in her family.  Then the fierce force of a Jewish Mother's determination took over.
Our mother loved life and lived it with passion.  She was a beautiful women and she dressed the part. Everyday, she got all dressed up, put her make-up on, and was ready to go at a moment's notice.
Up until this past August she was still driving and living an independent life on her own terms.
Not that you would get in the car with her. That thought is enough to put the fear of God in you….assuming you survived the ride. As late as last week she insisted that not only could she still could drive, but she was a good driver. Florida is a safer place today.
We know she was 90 years old, and it's easy to say she had a great life and it was time, but believe us, she did not go willingly.  She wasn't done yet.  Maybe another 90 years would have been about right.
Don't be fooled by our tears. We cry for us, and you ... we already miss our mother. We have an empty space in our souls. But we celebrate her life, and remember her with both love and envy.
To the three of us, she was not only Mom.  She was also our best friend. The first person we called with good news. The first person we called with the bad news.  The person that was always there for us, regardless of whether the news was good or bad, and that gave that news meaning.
Our job is to honor her each and every day as if she was standing right there.
When we were kids, we used to crawl into bed with our mother and father, and they would tell us the story of the handsome prince and the beautiful princess that fell in love, and lived happily ever after.
Back then we thought it was just a story. But, when we grew up, we knew that it was true.
So, mom and dad, we will try to carry on your legacy with grace and dignity until we see you again.