Morning Folks!!
I am going to take a moment to completely show that the Forbes.com article was FALSE! Not only is it false as I started to write about here, unless it is corrected, we know they could care less about FACTS! And today we have facts. I think Berkens may have covered it here on his take about this misleading and FALSE article when he took the author to the woodshed.
So, the FACT of the matter is the article revolves around this table below to show how domain values are going down. Well this table is FALSE! It is a lie. It is not factual. Let's start with the #1 VacationRentals.com for $35 Million. They bought a BUSINESS for $35 million. They did not buy a DOMAIN for $35 Million. Now it would be good for us if in fact it was a $35 million domain sale. But it was not. It is FALSE. I have PROOF. So I EXPECT Forbes.com and Ms. Jacobs to set the reord straight. Unless PROPAGANDA is their new way of reporting.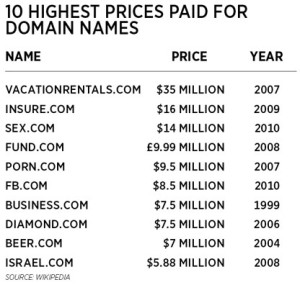 Here is the QUOTE from the seller of the BUSINESS:

Hi Rick,
What's interesting to me is Jeff and I owned vacationrentals.com and we did sell it But, it was not just a domain name but a full on business earning revenue daily.
We built the business and ran it for 4-5 years with our partners from media insights until we sold it to Home Away.
The article makes it sound like vacationrentals.com was just a domain name. They forgot to mention we built it up and worked very hard for years on it and it was making around 3 million before we sold it.  Amazing how they can write an article without the knowledge needed to write it.
Don Orr
iventure
So the entire premise of her "Article" is built on a false foundation.  It's a FAKE!!!
Lazy? Agenda driven? Short of time? I don't know and I DON'T CARE!
What I do know is if she does not CHOOSE to set the record straight and write an article that is based on FACT, then Forbes.com has been marginalized. It show Forbes.com does not care about SETTING THE RECORD STRAIGHT! It spreads false information to fit an agenda. That is called "propaganda". Not very cool for a Capitalistic publication.
I believe if Steve Forbes saw this he would be SHOCKED!
Now, let's go to Insure.com.
NO! Let's not.
Let Ms. Jacobs do the research she should have done FIRST and then take another stab at getting it right. I am not paid for this, she is.
I have invited her to be at TRAFFIC as my guest. I have invited her to set the record straight and take responsibility for the sloppy and FALSE article based on anything other than FACT! Sorry, but she has done a great disservice to Forbes and the way to fix that is to fix it.
We really appreciate her looking at our industry, but please, me asking a Senior Editor for Forbes.com to set the record straight is not too much to ask. Like I said, we had a cordial conversation, but she got her facts wrong.
Now I don't have as much ink as Forbes.com, but I can certainly use the ink I have to circulate the FACTS and call out somebody that should know to do a better job. And I have. And I will continue until I see FACTS!
Ms. Jacobs, I can give you Mr. Orr's email addy and you can check yourself. Do FACTS matter with Forbes is the only question? You have a duty to set the record straight on behalf of the company that pays you or "Phony" is the keyword.
To quote Mr. Orr, "Amazing how they can write an article without the knowledge needed to write it."
and btw, had Forbes spent a few minutes digging they would have discovered that more 7 figure domain name sales have been done in the second half of 2013 than any other 6 month period in history. Matter of FACT, more than some previous years in total and combined. And those are just the KNOWN sales. Maybe call Escrow.com and ask them about the unreported ones.
You don't have to write what I want or even agree, but if you want to restore your credibility as a journalist and not harm the company you are a Senior Editor for, then you must at least stand back and ask if you have been objective given all your misinformation in the story that many have taken you to task over.
I am passing along this blog post to the actual editor of Forbes as well. The editor is also responsible for those under him/her to hold their ther editors to a higher standard than this! I expect more from Forbes and so should they!
Rick Schwartz