Morning Folks!!
Thank you so much for all your well wishes. They have been very comforting.
What a sucky week. Dying, Death, Funeral, Memories. Lots of tears and lots of laughs. Laughs that end up back in tears. Many of you know what it is like and for those that don't maybe this will give you a little insight.
All I can say is that it is like a hurricane. The tears come in squalls. All of a sudden. Unannounced. It's whatever thing or thought sets it off at the moment. Some sad, some funny a song a word. No matter how well prepared you think you are, it's like going into battle. The playbook and the plan go right out the window. No matter the age, you know you can't call or visit them again. When they are young or a life ends in tragedy, it adds to the pain exponentially. So I can only imagine.
What most don't know was that my mom was also a domainer. Not in the sense you may think, but it was my mom and dad in the early days that would call me up or email me new ideas or new domain names to see if they were available. They did that a few years earlier with my vanity 800 numbers. I have no idea how many of theirs I registered, but there were a few dozen.
Later my dad would call me and ask of the 800 numbers and then  the domain names...."How did the whores do last night?" I would laugh and said they made me $50 or $200 or whatever it was. And in the last 6 months of his life he watched me pay off my mortgage in 90 days. It was important to me because they co-signed that loan to help me get back on track and I wanted that burden lifted from me and the risk for them......gone. That was my #1 motivation at the time.
The only ones on this planet I had to answer to about my adult names was them. They never had a problem with it.  So the rest of the world and their opinions matter not. They don't get to judge me unless I get to look and judge them. None of them ever have the class, the values, the integrity nor the dignity that they had. Nor will I for that matter. Tho I try every day. They were just the type people who never said "No" to anyone in need.
Maybe some of all this explains my mother's favorite colors. Black and white. She wore black and white, she decorated in black and white and she was buried in black and white. So maybe she saw things in black and white as well. I know I can. Maybe that is where it came from huh? Not a far stretch.
So I knew in 1996 that if my parents, who were both in their 70's and 80's, if they could figure out the value of the Internet, then I was sure the rest of the world and the geniuses that got paid to see these things would catch up too. I talked about it often during those years. The old were connected online. The young were connected online. Almost everyone in between was UN-connected.  I would go on a plane and there was not a businessman with a laptop or even a word processing device in those days. All these business people wasting hours of time when they could have been productive. Realtors were especially bad. They could save so much time and energy, but they were too busy WASTING that time and energy. Now look at them. They get it! Th they still don't use it to its' fullest.
I knew only one thing. That gap would close not widen and from there everything else happened. What does that plane look like today? Easier to count the people without a device! I could see that back in the 1980's before we even had the Internet when I bought my first pocket word processor that I could not afford for $199 and then went on to write 2 newsletters that became my main selling pieces for the next decade! All while waiting for my plane from Seoul to Tokyo on my return trip from Hong Kong. Wasted time turned into THE most productive time ever to that point.
So as I my parents were in a new world in 1995 so was their 5-year-old grand-daughter and for the first time a grand parent could be in the world and everyday life of the grandchild no matter where they were. They were now part of their daily lives. Want the only word in the entire world to describe that?? PRICELESS!! Priceless is that word. Think about how life changing that was and is.
That was the single thing that impressed me most about the internet in those days. I saw that life changing relationship and what it means and what it would mean. And I was ripping my hair out that others could not see something so basic, simple and powerful. MORONS! I would want to yell. Can you look back now and see what I saw and why I saw it? And that was only one tiny little thing of so many things that would become priceless. How frustrating it was that something so priceless was being missed by so many?
Instant messaging was my preferred communication method with my mom. She had 100% retention and understanding of the written word. But when you spoke and told her something, you would have to tell her over and over again. But when I wrote it, that never happened. Her mind was sharp as a tack.
Their help through life allowed me a safety net that I never took for granted. It was even harder as they only had modest means and were living on a fixed income. They only invested in us. Their lives revolved around us. They gambled a lot on me and without that, I would not be here writing this today.
And if it were not tough enough already....the single loudest whale of a cry was Sunday Night when I saw the piece of paper below. From 10 years ago. It listed her bank accounts back then and where the key to her safety deposit box was.
On on the back of that piece of paper, you will see why.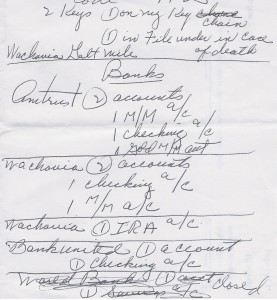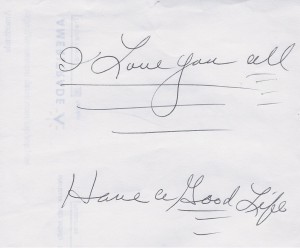 Broken Hearted, but life goes on. I hope to be back in the saddle next week. But I realize and will be reminded often this year and beyond that such a big piece of my life has changed forever. The very foundation. Not easy breaking a GOOD  habit that was a lifetime in the making. Since the day my dad died in October of 1997, we have made sure that mom was okay and happy. They were love birds and we wanted to make sure she made it through. She lived her life independently for 16 more years until just weeks ago. 26 crusies later, 500 Sunday breakfasts under the belt, plus many lunches dinners and celebrations. She was always ready to go at the drop of a hat. Bravo mom for a life lived well and a heart that goes unmatched.
Rick Schwartz
Here was the Eulogy:
It's hard to talk about our mother, Estelle, without talking about our father, Hy.  They were a pair.  A matched set.Our father Hy died in 1997, but as long as our mother was with us, he was too.  Now that she is gone the loss is twice as hard to bear.They both grew up in Brooklyn. Our father grew up on the streets.  Our mother Estelle grew up on a financial roller coaster with her two brothers, Elliott and Lionel.Her father and mother, Benjamin and Molly started businesses, closed businesses, lived in grand apartments, ran from creditors, and made and lost minor fortunes.
She even helped our grandfather get back into business during the depression. Ben was known as  "The Hosiery King of Fulton Street", until he went broke. After he went out of business he slowly built it back up using our mother as the go between, since nobody would sell directly to him anymore.
Every time our mother would pick up the goods, each order was larger than the next. At 12 years old she was the biggest hosiery buyer in Brooklyn! Nobody knew it was actually for our grandfather until he was back on top, then all was forgiven and he was once again "The Hosiery King."
Ben was fearless.  He had escaped from Czarist Russia after being drafted into the Russian Army for a 40 year term, so business for him was a piece of cake.  He knew nothing about engines and barely knew how to drive, but he once opened an auto repair shop.  That particular venture ended badly.
In July 1943, after Hy enlisted in the Army, Estelle and Hy got married and headed to California.  While Hy was an electronics instructor in the army, Estelle worked in an aircraft factory helping to build B-17 and B-29 bombers.
Women like her were immortalized as "Rosie the Riveter."  Through the years she also worked mostly in diners, and restaurants (the family business) and in the 1970's was Head Hostess at the Round Table in Hallandale. One of the Miami area's largest and most popular restaurants.
Estelle gave birth to, and raised, 3 sons during her marriage, Leslie, Michael and Richard. 3 tries at a girl and no dice.
Estelle was a one guy woman, and Hy was a one woman man. They were happily married for 54 years, up until the day of his death they lived a passionate and sometimes volatile love affair.
Estelle's defining characteristic, was her relationship with her husband, our father, Hy. They had a partnership based on trust, accomplishment, and a passion that didn't dim, even on Hy's dying day.
On the last day of his life, Estelle walked into his hospital room, and our father spoke his last words, "I love you!" Then he gave her a little grin.
After Hy died Estelle's life revolved around her three sons and her Granddaughter, Jackie.
She lived for our 20-years of Sunday breakfasts when the whole family would get together, and she was always ready for a dinner invitation or a party.  Joe's Stone Crab anyone?
There was no-one we know that didn't like Estelle. Ever! She was a classy lady, a devoted friend, and always had a kind word for everyone.  All of you that knew her know that she really cared about you.  It wasn't an act.
She had a strong sense of family and was devastated when her brothers, Elliot and Lionel, died.
The only time she was combative was when someone wronged someone in her family.  Then the fierce force of a Jewish Mother's determination took over.
Our mother loved life and lived it with passion.  She was a beautiful women and she dressed the part. Everyday, she got all dressed up, put her make-up on, and was ready to go at a moment's notice.
Up until this past August she was still driving and living an independent life on her own terms.
Not that you would get in the car with her. That thought is enough to put the fear of God in you….assuming you survived the ride. As late as last week she insisted that not only could she still could drive, but she was a good driver. Florida is a safer place today.
We know she was 90 years old, and it's easy to say she had a great life and it was time, but believe us, she did not go willingly.  She wasn't done yet.  Maybe another 90 years would have been about right.
Don't be fooled by our tears. We cry for us, and you ... we already miss our mother. We have an empty space in our souls. But we celebrate her life, and remember her with both love and envy.
To the three of us, she was not only Mom.  She was also our best friend. The first person we called with good news. The first person we called with the bad news.  The person that was always there for us, regardless of whether the news was good or bad, and that gave that news meaning.
Our job is to honor her each and every day as if she was standing right there.
When we were kids, we used to crawl into bed with our mother and father, and they would tell us the story of the handsome prince and the beautiful princess that fell in love, and lived happily ever after.
Back then we thought it was just a story. But, when we grew up, we knew that it was true.
So, mom and dad, we will try to carry on your legacy with grace and dignity until we see you again.