Morning Folks!!

I just love when a plan comes together. I have envisioned a domain get together in Asheville for many years. Long before Asheville was a destination. Few ever heard of the place 15-20 years ago. Not an easy place to get to and back then very difficult. Today much easier and a few airlines fly non-stop right into the city.

The Grove Park Inn is the epitome of Asheville. This 106-year-old property is the only place I ever considered holding such an event. I have dreamed about it for years. I guarantee you will fall in love with this place and Asheville at the same moment. But what makes Asheville so very special is how creative the town and the people are. When you see what they have created, and it's all "Home-grown" I think it will help us develop our own creations. This is my "Field of Dreams" and I hope to make it yours as well.
The things that I am still taken aback with when I come to Asheville are George Washington Vanderbilt of the famous Vanderbilt family who built the largest privately owned home in the USA (you can tour the 175,000 sq. ft. home and the entire 8000-acre property) and the fact that Asheville has an incredibly large and cutting edge medical community. It's all homegrown and unique. Just like domaining.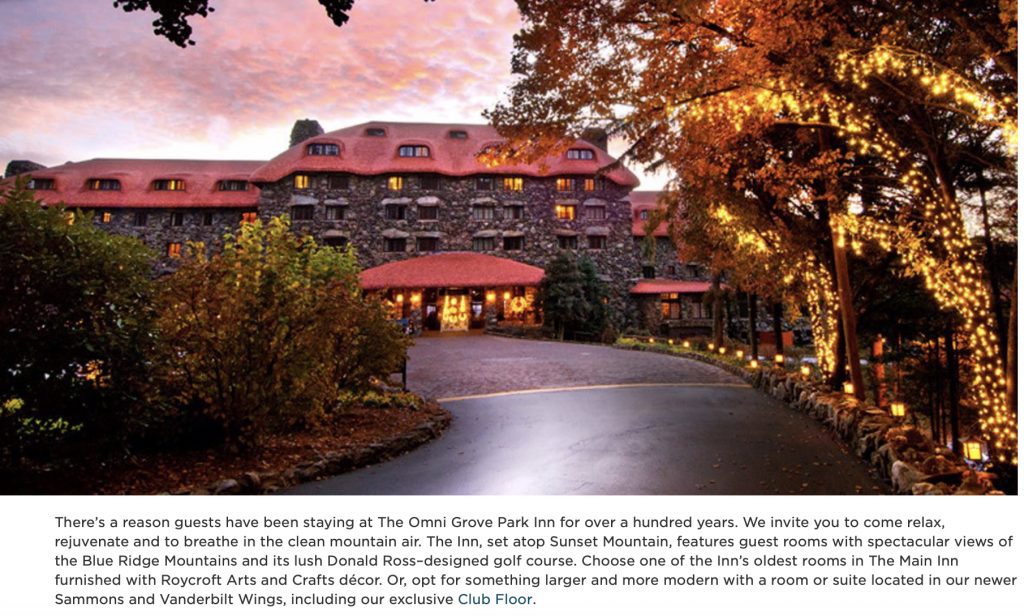 So, I am in the process of scheduling our Meet-up Starting the afternoon of Thursday, August 1st. Then followed by a "Working Luncheon" on Friday the 2nd. Friday night we will party in Asheville and Saturday we will end with a brunch and a fun-filled day of activities. That's the plan. It's not in stone. It's a framework until I know how many and how long folks want to stay.
As for the hotel, if you book a room direct today or at Hotels.com, it is $479. I will secure a group rate of at least $100 less per night. There are other hotels to stay in town and around starting at $150-$200. I have to personally guarantee 60 room nights to start, but the rate will only be available for 14 days once the hotel link is active. I will announce on the blog when the time comes.
August is their #1 month of the year. So if you are TRULY serious about attending, then booking early is critical. I have to limit attendance. I have no choice. I am not going to be on the hook for hundreds of thousands of dollars as I have in the past. This is a dutch-treat event. There is no financial motive. We all pay our own way. But I still have to give personal guarantees and deposits. The rooms alone are $25,000 plus taxes, and the food is another $10 grand. That's just at this venue.
So you can help me take an initial head count of who would stay at the hotel and how many nights you would stay there. I am not out to make money on a get-together nor do I even want to touch the money. I want all payments made directly to the hotel. A truly self-funded event.
I am out for us to make history with domains. And this time it will stay focused on domains investors and furthering OUR SELF-INTERESTS not the agenda of others. It's my vision, and I hope you share this experience with me and others. But whatever your decision is, it must be made soon, and if you decide later on, I am going to have to say no, and I really don't want to do that. It's strictly first come, first served.
I am trying to keep this event private, small and compact. I am not looking for a job so I have a number in mind that is good for the hotel and works for me. If we exceed that number it becomes an ordeal and that is not what "This Years" meet-up is about. Bigger isn't always better. Qualified is! Also, attendees of the first meet-up have first refusal rights on the next one. As charter members, you should be recognized for acting early. Isn't that what REAL BUSINESS is about? What domaining is about? Recognizing the opportunity and seizing opportunity EARLY. Action is the main difference between those that have found success investing in domains compared to those still looking for it.
So, if you are sick of the noise, sick of the slick, sick of swallowing crap for the benefit of others, then it's time to go back to the future when it all began. Let's start anew armed with over 20 years of new information and progress. Let's each walk away with one or more new projects. We are in the mountains, maybe my famous 18-wheeler story will make more sense there because it was in those mountains of Asheville where it takes place!
This is a show by Domain Investors for Domain Investors. It's not a show where all these companies get stage time to push their wares or new gTLD's and domains, and domainers are pushed aside. If we have any sponsors at all (and it looks like we will), it will be to help us not sell us. And also lower the financial burden on attendees. I want to get it as close to free as possible! On the other hand, you will have expenses for lodging and travel. But if all goes well, the food and entertainment will be an incredible bargain as will the deals, relationships and progress made.
I often talk about our "friends" in the domain business and how we should be suspect. However, relationships are different. They don't start with an agenda or a motive. They don't start with one trying to sell the other whatever the hell they have. It's not an opportunity to do face spam. lol, those are NOT friends. They may be colleagues, they may be partners, they may be a lot of things, but friendship is not always one of them. Relationships start with like-minded professionals breaking bread and talking about need, want, desire and common points, or goals and see if anything dovetails. You compare findings.
If you look at my history and look at the history of Domain Investors, you will see that since before 2000 and my original chat board, I have brought folks together. Most friends and relationships in domaining started on my chat boards or at T.R.A.F.F.I.C. Whatever some think of me, I have a history of changing lives for the better, and I'm not quite done.
So now that you know more details, you can email me directly. My email addy is on the left side of the page. As you can see with my original announcement and comments that follow, qualified folks are coming! I have a simple goal inspired by George Washington Vanderbilt, Let's make history!

Rick Schwartz
---
---