Morning Folks!
Oh, so goooood to be home!
Yesterday closed a chapter in history that has consumed the last 5 years of my
life in a way few will ever know.When I think back to the winters before as I prepared for the
inevitable. As I have shared many times at the show, the last time I was on a
stage and spoke I was 13 at my Bar Mitzvah. 40 years later just the thought of that would make me
shudder. The thought of doing it again and going on stage and speaking in front
of folks?? Well truth be told, that took 5 years leading up to these 5 years. I
knew I had a mission I had to fulfill and I knew I had to overcome my single
biggest fear in life. I had no idea how I was going to do that. I just knew it had to be done or it would hold me back from things I needed to accomplish.


My lucky break was partnering up with Howard Neu who was a
Mayor, a TV talk host, an attorney. He was my exact opposite. So over the 5
years I learned from him. I also learned from Larry Fischer who like myself was
a basket case on stage. He came to speak several shows into TRAFFIC. But his
nervousness showed me that I had somewhat conquered mine. Not 100%, but 40%.
Then a few years pass and I think it was Silicon Valley earlier this year and
Larry got on stage. WOW! What a difference. He too had conquered his. The biggest factor perhaps with both of us is confidence in what we know.
Confidence in the value of what we have to say. Such a deep belief in something
that it just drives you and propels you to do things you would have never done.
I am still not entirely comfortable on stage. Far from
it. But it is also no longer a
fear. It is a lot of things. Fear is still one of them, but the other things
override that one part and now it is propelling me again. I want to speak at
retail conventions. I want to
speak to diversified audiences of business people. Large groups. We need to get
the message out. I want to engage Main Street! Explain to them what they may be missing to transform their businesses from one on the corner of their town to one on the corner of the world and explain why it has not worked well for them so far and how to turn that around.
The folks that saw the seminar "Inside the Candy.com deal"
were treated to one of the coolest seminars we have ever had. Why? Well for one
thing I never ever met them until we all got on stage at TRAFFIC 3 minutes before the seminar. First I got up
and explained things from where I sit. I tested my #1 theory right in front of
everyone. I had no idea whatsoever if it was true or not. But I believe it with
every ounce of my being. Ron Jackson will tell you what that is in his article
next week. But I put it out there. Few can get away with it. I can. I Do. Then Greg Balestrieri and Joe Melville from Candy.com told their side of
the story and the negotiations from their side of the table. They also confirmed my theory. It was truly
compelling. Everyone there at that point heard from the end user and found out
why I hooked up with Greg and Joe. Hershey's? Mars? Nestle? Never gonna happen.
This is going to be so much more fun and rewarding. All you had to do is see
the sincerity and passion in these guys and then the where with all to back it up and
history is made. They were born in the candy business and now they are going to disrupt that business. They are going to school that business. They are going to surprise that industry but it is not going to surprise anyone reading this.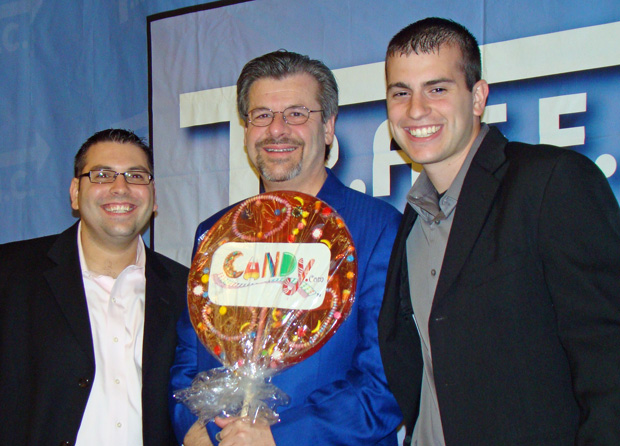 From the left....Joe, Rick, Greg
For me TRAFFIC New York was satisfying. We did what we
needed to do in the toughest business environment of our lifetimes. The state
of the domain industry is STRONG! However the weak are about to be washed away
and even the strong need to get their financial houses in order. That is a natural
process. That was what 2009 was about.
I will let others comment on what they got out of the show.
But for us, we had a number of "Firsts" and in a future post I will explain how
those things will allow us to bring costs down without sacrificing.
From here we pass the ball to Rick Latona and his crew. New
ideas, new directions, new places. That allows Howard and I to focus on our one
annual show here in Florida. Next year it will be in South Beach on October 17th
to the 20th with pre-show activities staring on Friday October 15th.
So start planning for the bash on the beach. South Beach that is. Movie Stars,
Long Legs, domainers, the hippest place on
planet earth. The hotel? The Diplomat on Steroids! You're gonna love it.
Have a GREAT Day!
Rick Schwartz