Good Afternoon Folks!!
I am pleased to report that after months of looking(as I described in this blog post last week),negotiating and figuring out who would be a great guest speaker that is plugged in but not too close to the industry and can give us some insight from a slightly different perspective. Also, I did not even know about the Internet until I traveled internationally and started seeing CNN.COM every few minutes.
Nobody could argue that CNN has been plugged in from day one. The purchase of iReport.com meant a lot more than $750,000 for me personally. It was a sale that could be pointed to for many years to come by every domainer and every time a domainer watched CNN and saw iReport.com it would give them the fuel to keep going.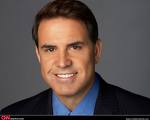 So I am happy to report thatRICK SANCHEZ, 3PM Anchor for CNN will be the guest speaker for TRAFFIC's 17th show and 5th Anniversary. He joins a great group of guest speakers over the years and I am sure he will be able to share things with you that will benefit your business and your future.
I am also happy to report that the fee we are paying Rick Sanchez is going to charity. Rick will have his honorarium go to a charity of his choice. I think that is pretty cool and I also think it shows a genuine desire to meet with our industry.
Have a GREAT Day!
Rick Schwartz