Morning Folks!!
Can the New gTLD's Have a Domino Collapse? That is a very provocative question but does not delegitimize me asking it? At what point does the weight of other extensions that have not done well weigh so much on what is coming that the entire thing collapses like 1000 dominos lined up. When you add the weight of dozens of .mobi's and .travels. When you add the weight of all the gTLD's that have already been canceled. When you add the weight that even a GREAT gTLD could be tainted by the loss of the others.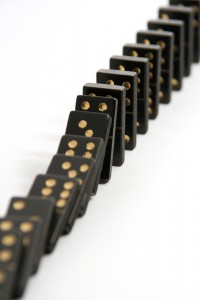 Does it matter if .mobi has 1,000,000 domain registrations? Does that make it a better investment or is it still a loser as it stands today? Who cares if they make money at the registry level? They are no factor in domain investing or even domain flipping. It has NOTHING to do with YOUR LIFE!
And I don't mean to pick on .mobi but that is without doubt the clearest example so far. With great fanfare. They had their moment in the sun.They make $$$ with the sunrise and all, but face it, domain investors got caught holding the bag. And that is ok. That is what speculation is about. But other extensions DO have a more active aftermarket. .TV, .INFO, .ME. So there are lessons to be learned.
So in the event that the first 100 new extensions came to market and fell flat, what exactly would that spell for the other 900? It does not help their efforts it hinders their efforts. Even a winner could be weighed down by the sinking of others. And some are gonna sink right to the bottom.
So in that event, I would think some would be forced to even further delay a new extension rollout as they could go down with the tide. Let me be clear, I am not saying this will happen. But I do see it as ONE of the possibilities. Who goes FIRST could play a huge part in how this all unfolds. What if the first 5 rollouts are DOGS?
Food for thought. Never discount things that are possible until that threshold has been passed. .Mobi did not make the cut. Tebow did not make the cut. Both were surrounded by excitement and all the rest. But at the end of the day, the road has yet to lead either where they "Intended" to go. Tebow is still alive, .mobi is not alive as a domain investor extension today. So who cares how many are registered. They are not being used commercially and that is the KEY to value. No billboards, no TV, No Radio, no ADVERTISING DOLLARS at the end-user level. That's the KEY to growth. Not a bunch if domain investors buying TULIPS! If you don't know the Tulip Story, go LEARN IT right now!! RIGHT NOW. I sure have talked about it enough over the years. THAT is the most likely scenario at best.
Need, want desire. If nobody needs, wants or desires an extension and the few they sell are to investors looking for the 2nd coming and few if any are used commercially in advertising, how exactly does it get the oxygen to survive? Especially for investors. In OUR LIFETIME!?
.Com took off for a reason. The value of .com took off for a reason. How much did end users spend promoting .mobi last year?? THAT is where the value STARTS!
Reasons are missing in this new equation. They are just missing. And when you try to copy a recipe and the main ingredients are missing, what exactly do you have?
990 or more extensions could be very disappointed with their results regardless of their aspiring intentions. Some may not matter because with many new gTLD's then collectively they can operate and make money. But that is a different business than we are in.
.com did not happen overnight even with millions of registrations and many advertising the extension and little competition. A success on a new gTLD could take 10-20 years or more to manifest itself. Some folks think they can't plant a seed in the morning and have a tree in the evening. Maybe. 3 real or FAKE stories like that and the sheep will come a running.
But not to consider these things? Come on! This is MORE than possible given the evidence we already have. So those who have not thought about this scenario.....are they REALLY prepared? My question being in sales and marketing for so long is why would you not EXPECT it to happen? So if you don't expect something that is a possibility and that possibility arises and you are caught SURPRISED.......what happens then?
Rick Schwartz
---
---