Evening Folks!
There is no question that the new GTLD's have been a disaster for domainers as well as most registries with too many horrible extensions to list.
After hitting nearly 30 Million total combined registrations a year ago April, the current number registered are the same as June 2016 standing at 22.7 Million. Wiping out nearly 2 years of gains. And there are still 1.25 million upcoming deletes and that is with the success of Google's .App now climbing to #17 with 250,000 registrations in just a few weeks.
8 of the top 10 extensions lost ground yesterday with .Loan leading the way shedding 73,773 domains. The #1 extension .Top added 120 domains and #6 .online registered 2 for the extensions that gained.
.App gained 2750 Yesterday making it once again the top gaining extension vs 550 others! Most of which lost ground.
The other 99 of top 100 had a COMBINED total registrations of 7793. Compared to 125,566 drops for the top 100. That's 16-1 losses over gains!! More than 16 domains DROPPED for every 1 domain registered. That's not growth, THAT STINKS! And if the majority of  top 100 are stinking I can't even describe the bottom 450. Most of which had gained or lost less than a total of 10 each. Most of those with just +/- 0- 3. That's called Dying on the vine!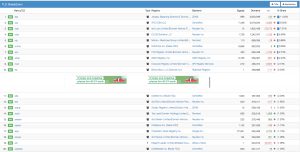 Have a GREAT Day!
Rick Schwartz