Morning Folks!!
Since 2000 the time folks have spent online has increased dramatically from 3 hours a week in 2000 to 24 hours per week in 2016 according to an MIT study. But the question is when does it peak? And how many hours does it peak at?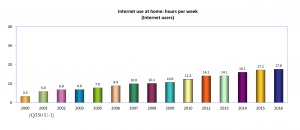 As folks that make our living online we spend more time than most. Early on I was online for 15 hours per DAY. So 100 hours per week. I peaked many years ago. Today I spend about 2 to 8 hours a day. Some days even less. I go out of my way to stay offline.
But the question is when do the masses decline in time spent online and how will it affect domains and prices? I don't have the answer. I just have the question.
Rick Schwartz