Morning Folks!!
So this morning after my blog post I clicked on an ad at domaining.com. As a domainer we have all learned what constitutes a trademark and what does not. Today I want to show you an outrageous use of MY personal trademark! What if I told you a registrar is using my 'Domain King' name to help promote and grow their business and sell domain names without MY permission or knowledge?
Well that is EXACTLY what is happening if you look at the lower left hand corner of the website of onlydomains.com. Using ME and MY name to make sales. That is absolute BULLSHIT and in a small industry like this to do it, takes CHUTZPAH! How many domains and accounts did they get trading on MY NAME??!!
So here is a PUBLIC CEASE and DESIST! You have been PROFITING from MY name for MONTHS and TODAY it stops! Are they going to claim they didn't know?? They profited off of my good and high profile name and so this is the start not the end! Shameful in an industry as small as ours.
OnlyDomains.com aka Instra.com, the ONLY thing you have is a MAJOR problem! Using my trademarked name to trick people into believing I endorse or own or otherwise involved in a company I never heard of in this tiny industry is OUTRAGEOUS and so far over the line I am speechless.
And let me be clear, it is not about my trademark. It is about common decency. Could you imagine Fabulous.com or any other reputatble company in the domain industry doing that? Of course not!! So please don't tell me how 'Far away' they are. It is just below the belt bullshit that should not be tolerated or defended by anybody. PERIOD!
Rick Schwartz
'Some People tell me I have a short temper. I prefer to call it a swift and assertive reaction to BULLSHIT'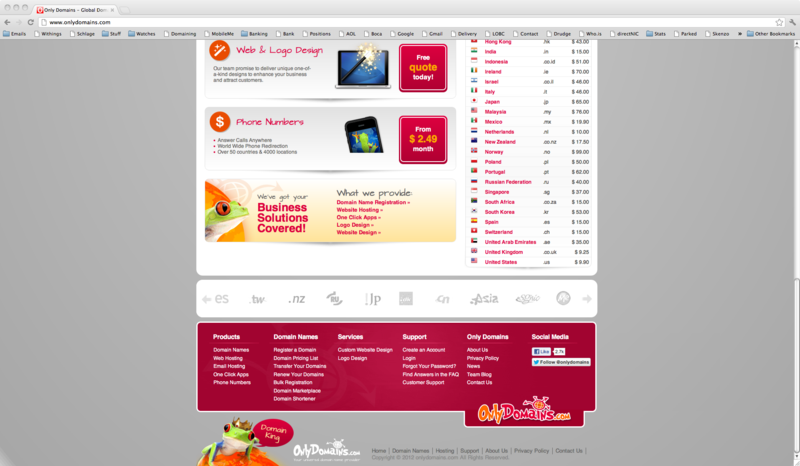 Typed Drawing
---
| | |
| --- | --- |
| Word Mark | DOMAIN KING |
| Goods and Services | IC 042. US 100 101. G & S: LICENSING OF INTELLECTUAL PROPERTY, NAMELY, DOMAIN NAMES; AND WEB SITE DEVELOPMENT SERVICES. FIRST USE: 19960731. FIRST USE IN COMMERCE: 19960731 |
| Mark Drawing Code | (1) TYPED DRAWING |
| Serial Number | 76262003 |
| Filing Date | May 24, 2001 |
| Current Basis | 1A |
| Original Filing Basis | 1A |
| Published for Opposition | July 22, 2003 |
| Registration Number | 2773011 |
| Registration Date | October 14, 2003 |
| Owner | (REGISTRANT) Virtual Dates, Inc. CORPORATION FLORIDA P.O. Box 810276 Boca Raton FLORIDA 334810276 |
| Attorney of Record | Karen J. Bernstein |
| Disclaimer | NO CLAIM IS MADE TO THE EXCLUSIVE RIGHT TO USE 'DOMAIN' APART FROM THE MARK AS SHOWN |
| Type of Mark | SERVICE MARK |
| Register | PRINCIPAL |
| Affidavit Text | SECT 15. SECT 8 (6-YR). |
| Live/Dead Indicator | LIVE |
UPDATE: At 5:35PM EDT they agreed to remove the reference but still waiting 2+ hours later.
UPDATE: The reference to 'Domain King' has been removed.