Morning Folks!!
I am certain that in the days ahead you will read many accounts of the seminar that folks might talk about for a very long time. It was as good as billed and perhaps better!
There was passion from each and every person on the panel and the debate was respectful but intense. I think the result was more clarity on each side.
.Club had a point of view and .Kiwi had a point of view.
One of my favorite points of the debate is when Monte and Frank disagreed and they were on the same team. That was priceless.
My partner was Lonnie Borck and for those of you that know Lonnie, he is sharp and smart and was able to boil it all down to simple things. Like .whatevers MUST sell to survive while with .com there is no concept to sell.
The basic disagreement I have with Frank is that he believes .whatever will devalue .com and I believe it will do just the opposite. Increase the value of .com Nothing I have not said right here on this blog before. Many times. I look to history for my answers.
I compared the prices of .com domain names today with the historical salaries of baseball players. I believe that domains are on a par with what Babe Ruth made or maybe as fas as Mickey Mantle. But these guys never earned the tens of millions stars earn today.
And even as Football replaced Baseball as the National Pastime and Nascar has become bigger than both, salaries in baseball continue to go up.
So I put that question to the attendees and the vote was overwhelming that .com prices would go up as a result of all this.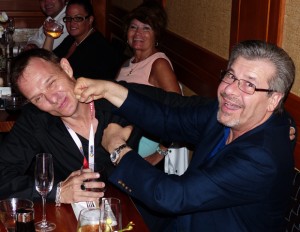 Photo Lifted from: http://www.dnjournal.com/archive/lowdown/2013/dailyposts/20131021.htm
Howard and Danny did "Man on the street" and the interviews were more than surprising.
One young guy in his late 20's said Facebook is where his company website is. The crowd laughed.  He said is website was under construction. More laughter. Two said they did not have websites and don't want one. That surprised many. None knew of the new gTLD's. So the point is while we know this and that because we do this fo a living, Main Street is far behind and I think the audience was stunned by how far! These were just random small businesses that were picked.
We touched on many subjects and as I said, there will be a number of stories about what took place and it was all good!
I want to thank Frank for doing this with me as well as Monte Cahn from Rightofthedot.com,  Jeffrey Sass of .club and Tim Johnson of .kiwi and Lonnie Borck.
We did record the session and we plan to put it online for all to see. I am certain you will enjoy it and find great value with it. It's just a sample of what we do at TRAFFIC. Should be online within the week. YOU be the judge.
Rick Schwartz
---
---