Morning Folks!!
Just a quick reminder that TRAFFIC is not totally over. Our silent auction hosted by Above.com is still running and as I write this 23 different domains have bids. Highest bids so far are $12,000 for Postal.com, $10,000 for Hairdressers.com and $2000 for authorizing.com. Menswatch.com and TampaBayCruise.com are the most active with 9 bids each.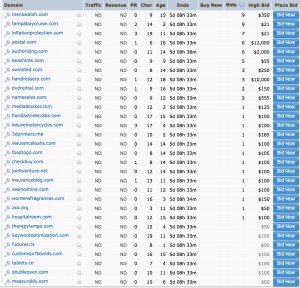 http://www.above.com/marketplace/traffic.html?SortOn=bids_sort&SortType=DESC
Auction Ends Thursday.
Still working on the Schwartz vs Schilling video and should be up this weekend.
Rick Schwartz
---
---